Damien Shirt and Friends - Norman Rea gallery, Langwith College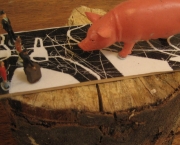 Installation from ''Damien Shirt and Friends''
Thursday, 5th February 2009
Written by Emily Mears
"Oh darling. Isn't Emin's bed just wonderful? And Damien's cow oooo!" Perhaps prompted by the new wave of wacky contemporary art Langwith's Norman Rea gallery has mounted a small-scale retaliation. Mingling laughter with confusion the exhibition ranges from provoking installations to proper paintings.
Damien Shirt, a witty anagram of Hirst, is the exhibition's featured artist. He is a superfluous, vacuous and artfully annoying character. He also doesn't exist. It is this conjuring up of a pretend artist that makes the exhibit so enthralling. With a believable biography, Shirt is reported to have seduced the Tate with his off-the-wall offerings. Selling 'wee-wee' and showing off 'dandruff', Shirt has even won the admiration of Charlse Saatchi!
Yet, for such an acclaimed artist, his artwork is dire. The Norman Rea gallery showcases worn out shirts with washing up brushes tied to them, plastic farmyard animals stuck onto chipped kitchen tiles and miniature cows suffocated by condoms. The point of the exhibit lies in its awfulness. People will pay ridiculous amounts of money, up to £10, 000, to buy rubbish; literally rubbish, since the rubbish bin is also for sale. In a more subtle way the pricing picks up on society's obscene obsession with labelling: a piece of firewood poetically titled 'no way to heat a home' is on sale for £7.99, while the less fancifully titled, and exactly the same, 'piece of fire wood' costs a mere £1.29.
Painting by Rory Motion.
Winding away from the installations, the exhibition then leads you onto Rory Motion's graphic oil pastels. Depicting naked dancing men and multicoloured cacti, Motion's paintings exude a flamboyant vitality. Picasso style dogs pop up in most paintings and there is a recurrent motif of see-through silvery teapots. Motion fashions an unusual, almost illusory depth to his pictures through the layering of images under and over one another, as though each scene is a sort of mixed up, muddled up collage.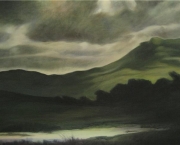 'West Coast of Ireland' by Hannah West.
Turning the corner, the excessive energy of Motion's work is suddenly stilled. Hannah West, another local artist, focuses on quiet spirituality. Sunlight spills across her landscapes, making patterns of golden paths. Purple clouds chase the sun, casting shadows on the lake. And now and again the perpendicular lines of a manmade barn shape an odd silhouette amongst the fluid curves of Ireland. Painting with a palette that seems to have been inspired by the Northern Lights, West attempts to capture Nature at its most beguiling.
Damien Shirt and Friends spans the spectrum of artwork today, and each exhibit, however artistically dubious, skilfully provokes emotion. Now that the exhibition is coming to a close we can only wait in anticipation for Lesley Seeger's imminent show.