'Handmade' - Langwith Norman Rea Gallery – until Friday 05/03/10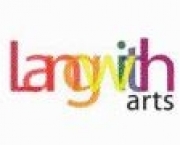 Tuesday, 23rd February 2010
By Marie Twomey
Though perhaps not the most challenging exhibition, Handmade, currently on at the Langwith Norman Rea Gallery, is certainly rewarding. Well-organised and consistent in quality, the show exhibits a selection of pieces from artists whose work offers insight into the contemporary use and perception of 'craft' within modern society. This basically means everything from quirky illustrations of parading animals to a croqueted plate of biscuits, complete with woollen cup of tea.
As you walk in the room, what immediately catches your attention (besides the free cupcakes) has to be the crocheted work of Kate Talbot. Unique and endearing, she has clearly devoted a lot of time to creating curious three-dimensional everyday objects out of wool, including a bottle of tomato ketchup and a tin of baked beans. Her other work on display includes a series of amusing miniature portraits made of felt, arranged in a nicely unregimented manner which is in-keeping with the organic feel of the show.
Though Talbot's offering is clearly the main attraction, the other four artists – Laura-Kate Chapman, Anna Chocola, Beki Rymsza and Rebecca Nicholl – all present highly thoughtful and individual contributions. The 2-D work is perhaps a little more ordinary by comparison but they all have something to offer. In particular, the imaginative sketches by Laura-Kate Chapman, which feature anthropomorphic animals playing various instruments, hold a sense of vitality and individuality that is inherent throughout the show. This sense of personality is heighted by display of her sketchbook, which allows the viewer to gain an insight into the development of the characters on display.
The attention to detail by the exhibition's curators, Amy Jones and Becks Witterick, also deserves a mention; from the handcrafted and professional-looking exhibition sign, to the homemade cupcakes, they and their small team of helpers made the opening night seem a very personal affair – even manning a small stall of handmade wares, including some bags by the artist Anna Chocola. Handmade may not be the most controversial, or striking exhibition that has been held at the Norman Rea Gallery, but it is cohesive, endearing, and most of all, unpretentious; a breath of fresh air in the contemporary art scene.