Light - Norman Rea Gallery - until 12 June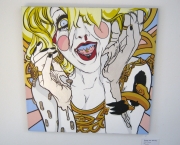 'Monster' by Alex Dennis
Saturday, 22nd May 2010
Light. Such a word, when used for artistic inspiration, has many different connotations. Thus when visiting the exhibition currently situated at Langwith's Norman Rea Gallery leave your pre-conceptions at the door as this group of artists, both local and student talent, cover many of the possible interpretations of such an ambiguous title.
Unlike most people who attended this, some perhaps for the free wine, the best possible time to go is when there is no one else there so you can take as much time as you want examining the talent on offer. This ranges from an installation consisting of a lamp and an armchair to a series of black and white photographs of nudes obscured by shadows.
Whilst it may not be the best work there is, one piece is so eye-catching that throughout the exhibition there will be many glances in its direction. I am talking of 'Monster' by Alex Dennis. This painting is interesting too since whilst all other pieces in this exhibition are focused on the presence of light, 'Monster' takes the initiative of a picture so unsettling that the only connection to the title of Light would be the addition of the qualifier 'lack thereof'. Each look towards this picture unveils yet another addition to the disconcerting vision that would closely resemble one of Roy Lichtenstein's nightmares.
The true star of the show, however, has to be Ros Walker whose paintings are all beautifully rendered. Her best work is the first that you'll most likely come across; a picture of a rainbow cast against a crashing sea. Here the diagonal spray of the white sea-foam acts as a perfect contrast to the vivid blues and the subtle colours of the faded rainbow. Also impressive are the paintings by Heather Niven and the photographs of Jean Jacques Calbayrac which both make great use of the theme of light.
As a University exhibition the work presented was of a surprisingly high quality, and the way that the entire gallery was laid out is of great credit to the organisers. Also the light bulbs stuck to the tables with double-sided tape was a nice touch, it made them look like they had ideas of their own.