Art in York 2011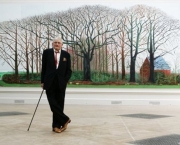 David Hockney with his painting Bigger Trees Near Water
Sunday, 2nd January 2011
What do art lovers have to look forward to in York this coming year? Here is The Yorker's pick of the upcoming exhibitions in York, and handily enough for students, they're all within walking distance of the university!
The Norman Rea Gallery – Langwith College
Adeline de Monseignat: Reveal the Tension
24th January – 4th February 2011 This exhibition will feature unique installations, drawings, paintings and sculptures to make it "widely varied in terms of the organic forms and tones". If you're interested in art that surrounds you, this exhibition looks like it will be for you.
Paper Beginnings
7th February – 18th February 2011 Described as the "often overlooked art", this exhibition will be celebrating the art of paper crafts. Even if you're sceptical as to the artistic integrity of paper folding, it will be hard not to be impressed by the installation that will feature an "origami grotto" of one thousand cranes made out of paper. Just don't step on any of them.
York Art Gallery
David Hockney: Bigger Trees Near Water
12th February – 12th June 2011 This is David Hockney's biggest ever painting, measuring 40 x 15 feet. This towering panorama is on loan from the Tate Britain and was inspired by a site in the Yorkshire Wolds. The story of its composition looks to be almost as interesting as the painting itself and Bruno Wollheim's documentary A Bigger Picture, showing Hockney at work, will be shown in the gallery.
William Etty: Art and Controversy
24th June 2011 – 22nd January 2012 Although this one is not for a while yet, the exhibition deserves mention because of Etty's reputation. York-born artist William Etty was the first major British artist to specialise in the nude before the 20th century, and subsequently created an uproar. This exhibition will be the first in 50 years to reassess Etty's work and also gives you the chance to gave upon some splendid naked bodies.
For more information about any of these exhibitions visit http://www.thenormanreagallery.com/ and http://www.yorkartgallery.org.uk