'Paper Beginnings' - The Norman Rea Gallery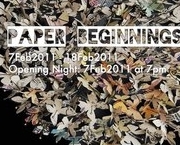 Thursday, 10th February 2011
The Norman Rea Gallery launched their latest exhibition Monday night to a wine reception, focusing on that material we use every day for note-taking and seminar reading – paper. A year in the making, the pale-toned exhibition showcases the artwork of three paper-based artists with different influences and uses for paper, as well as one of the most striking installations the gallery has ever witnessed.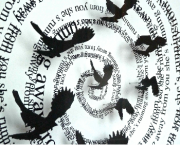 She's Running Away From You - sarahmorpeth.com
Sarah Morpeth, inspired by lyrics and poems, embeds phrases in two of her three pieces: 'Run Rabbit Run' and 'She's Running Away From You'. Both shape the words into a spiral decorated by hand-cut rabbits and birds respectively, which is simplistic yet thought-provoking. Her final piece, 'Five Panels' of flower silhouettes cut out and encased in glass, though immediately recognisable by their intricately-cut form (a testament to her admirable paper cutting skills), left little impression on me in the context of the whole exhibit.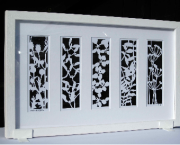 Five Panels - sarahmorpeth.com
Morpeth's work is nicely complemented by Rebecca J Coles' 'Oberthur's Grizzled Skipper', the most elaborate and aesthetically pleasing piece of work, notably used in the promotional posters for the event. Made up of dozens of small hand-cut butterflies in a perfect circle pinned down with needles, it draws your eye and the closer you look, the more you appreciate the incredible effort that went into it. The paper contains snippets of French text and simple illustrations which not only kept my attention for the longest period of time, but kept me coming back to see if I'd missed anything.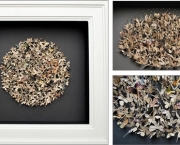 Oberarthur's Grizzled Skipper - rebeccajcoles.co.uk
The final artist is Lucy Gibson, a secondary school art teacher who has six pieces exhibited in total: two paper cuckoo clocks and four papier maché birds in wire cages. While the structure of the birds showed some impressive engineering out of simple materials, and I was reasonably fascinated that the paper clocks were real ticking clocks, the presentation felt a little juvenile and too reminiscent of a school art project. When juxtaposed with the attention to detail and obvious time that had been put into the others' work, it just looked even shabbier than it was.
The highlight of the exhibition for most will probably be 'One Thousand', the installation of one thousand origami paper cranes set up by the curators Helen Grainger and Laura Howarth. Made from plain white, lavender and book paper in varying shapes, they hang from netting by thin pieces of string, giving the illusion of a flock of birds floating in the air. Inspired by Japanese mythology which says folding one thousand paper cranes will grant you a wish, there is even an interactive part where you can hang your very own ready-folded paper crane on a potted tree and write a wish on it, an attraction that proved very popular on opening night.
Overall 'Paper Beginnings' offers a surprisingly captivating interpretation of the versatility and potential of paper, making you not only appreciate it more, but think twice about the real wonder of daily objects you may take for granted.
Don't miss 'Paper Beginnings' in the Norman Rea Gallery above The Courtyard, on display until 17th February