Scott exhibition - The Norman Rea Gallery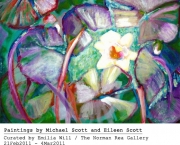 Scott exhibition poster
Wednesday, 23rd February 2011
Art is a strange word. Art can encompass anything – sculpture, origami, photography, architecture, installations, it's an ever-expanding and often debated word. Which is why I left the Scott exhibition, feeling thoroughly underwhelmed, if I was ever "whelmed" in the first place.
Situated near Langwith's Upper JCR, the Norman Rea Gallery is a quiet corner of peace and art that not many people even know exist. With its big windows and open spaces, it is very light and warm, with wide squishy chairs perfect to flump down into after a hard day and stare at some pretty paintings. Which is precisely what I did. Not being a particularly ardent lover of art, I was determined to go along and broaden my horizons, to challenge my pre-conceived thoughts of "oh dear Lord no" after reading the words "still-lifes" and "flower paintings" on the exhibition's description. And I tried, I really did try.
The paintings of the Michael and Eileen Scott were certainly eye-catching. Bright bold colours, especially green and yellow with splashes of orange, drew you to them. The broad brush-strokes added a child-like quality to the paintings of flowers and shapes, which was an interesting concept but meant that they often seemed fuzzy and probably would look better if you squint your eyes. Three panels in particular left me baffled. Titled Red Abstract, they had a deep rich red colour, with lots of rectangles. Call me a purist, or ignorant, but I simply don't "get" abstract art. I prefer to be able to ascertain some meaning from a painting that speaks to me in some way. I can get lost in the eyes of Girl with a Pearl Earring for a long time, wondering what secrets she might hold, marvelling at her glossy lips. But when the subject matter is abstract shapes, I find it hard to connect with a painting.
Of course, I know very little of art and an art lover might well disagree by saying "why should paintings have a meaning, why can't they just be aesthetically pleasing?" This is certainly true, in fact I often delight in paintings that purport to be exactly what they're showing, but for me, the abstract red rectangles weren't aesthetically pleasing.
Perhaps as a literature student I am biased because books place so much emphasis on human emotions, human actions and feelings. However as a matter of personal preference I find pictures of people infinitely more interesting than those of flowers. You can't get inside the mind of a flower, you can't wonder what a flower's thinking, it is purely just an object to be looked at. Which is all very well and good, but when you can see a flower in all its real glory outside, I find it hard to be interested in someone's interpretation of said flower.
Maybe I did broaden my horizons by heading to an art gallery, but it only strengthened my opinion of art, in that unless there is human interest in a painting, it can be thoroughly underwhelming.
If you fancy making your own judgement, the exhibition is open until 4th March, in the Norman Rea Gallery above The Courtyard.