Unknown Ritual: The Norman Rea Gallery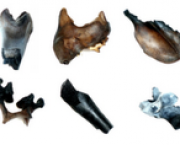 Wednesday, 16th November 2011
"The ritual is a process that begins and never ends, but simply exists, in a state of perpetual transformation."
My second visit to the Norman Rea Gallery was one radically different to the last. The space echoed with the sound of my footsteps save from the gentle whir of the projector above my head; the room was dark. A series of video installations put together by Sicilian-born conceptual artist Andrea Coppola, the work explores music as a tool for investigating the rhythm of prayer and ritual, sitting alongside themes of death and juxtaposing cultural experience.
From behind, someone breathes heavily as I stare transfixed at the screen before me; the incessant digging of earth transports to some sacred realm of reflection, a therapeutic environment devoid of troubles. Across the room, another screen plays a series of images – Visita a Gibellina. Beautiful Sicilian landscapes juxtapose derelict town houses and oblique snapshots, that seem to penetrate deep into the psyche that we are never truly alone, but our environments wait for us, wrap themselves around us. It is the third installation however, that truly captures the essence of Coppola's work: What do you think about death?
His reply is fascinating, and chilling. For without death, we cannot experience life, and like all good artists he does not mean this literally. For Coppola, we experience death through materialism, through psychological inflections and the notion of 'total death' whereby the body ceases to function yet the soul lives on. We are transported again to some unknown landscape, exercising tension between the poles of presence and absence referred to on the accompanying plaque.
Running until the 21st of November, this proves to be a cathartic and rewarding exhibition. The starkness of imagery reminds us that Coppola's work is rooted firmly in reality - photographs of the departed offer an icy remind of that which awaits all of us - yet possesses the ability to transport viewers towards a realm of utter tranquillity.