We have a pirate president!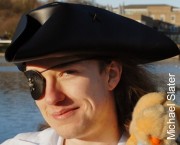 Winner: Mad Captain Tom
Saturday, 8th March 2008
The Yorker team complete their live coverage by bringing you the news that our new SU team is to be led by a pirate.
1:35: To Summer of 69, we finish our coverage. Check back over the next few days for further coverage and comments.
1:30: SU President candidate Nadz Kunwar tells The Yorker: "I've had so much fun campaigning, it's a shame to lose."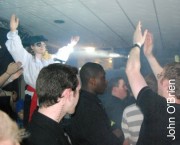 The pirate wins the SU election
1:20: The Yorker secured the first quote from our new SU President, when we asked how he felt. He replied: "I'm about to pass out."
01:18: Joe Clarke said: "At this time, it seems like a mockery." However, Tom Scott said: "People keep asking me, am I going to take the job and the answer is Yes. I be doing the best damn job I can."
01:14: And now for the big one... 2984 people voted for this postion. AMC described having to announce this fact as her proudest moment as president. The winner is Mad Captain Tom Scott. Some members of the audience are singing "We want our vote back". Theresa Dolan said: "This uni is a sham!"
President
Candidates:
Tom Scott
Laura Payne
Nadz Kunwar
The winner is Mad Captain Tom
01:03: Matt Burton becomes the first officer to serve two years running. He said: "I'd like to thank all my campaigners. I really think I can do it. Thank you very much to my Sabbs, everyone has been really really supportive, even the people at the front. Thanks, enjoy the night." A song specially requested by Matt Burton is played. No one at The Yorker has a clue what it might be. Joe Clarke said: "A landslide victory for the deserving candidate."
Services and Finance
Candidates:
Matt Burton
James E J Thompson
Nick Bradley
The winner is Burton
12:54: Current AU President Jo Carter has explained the situation. A drunk member of the audience pressed a button on the slide. They went through normally as they were unsure how many members of the audience had seen the slide. Carter has been round and apologised personally to all candidates. Doorsafe are now guarding the computer to avoid the event happening again.
12:51: AMC was just spotted falling into the recycling bins. We're currently trying to get hold of her for a reply.
12:47: Sam McCormmick said: "It's a disgrace that they didn't offer an apology, they should have rushed through the results rather than brush them under the carpet. They're messing with people's lives there."
12:42: We're almost there folks, only two more results to announce. However, we're thirsty, will someone buy us a pint?
12:37: AMC told the audience ex-Academic and Welfare officer Grace Fletcher-Hackwood texted in and said: "This is the best job in the Union." AMC added: "I agree with her, it is the best job, and the most important." The post got a large number of votes with 2373 votes cast.
Academic and Welfare Officer
Candidates:
Alan Duffell
Charlie Leyland
Matthew Pallas
The winner is Leyland
12:34: Mad Captain Tom said: "Someone just described me as a walking spoilt ballot paper."
12:33: The results have now been announced officially. After first round Collinson 535, Lacy 642, Coney 545. After second round Collinson 593, Lacy 662, Coney 563. Third round Collinson 658, Lacy 723, Coney 606. Last round is Collinson 790, Lacy 856. Lacy wins an extremely close contest.
12:29: Another unfortunate mistake... Result went up before any annoucements were made. Alex Lacy is new AU president
AU President
Candidates:
Alex Lacy
Jack Kennedy
Aimee Gamble
Chris Collinson
Max Coney
The winner is Alex Lacy
12:25: New Ents Officer Naomi says she feels "OK", then "Good" and finally settles for "Excited about the year to come". Baywatch themes comes on. It's like Toffs on a Tuesday night, except I'm using my laptop and nowhere near as drunk...
12:09: Shanks, who won with yet another convincing result, told the audience: "Thank you very much. I'd like to thank all those who have voted for me and have helped me along the way. I'd like to thank my house, my OTC attachment, the campaigns we all ran were great, which is great for communications."
Societies and Communications
Candidates:
Matt Harris
Chaz Taylor
Rory Shanks
The winner is Shanks with 923 votes, above the threshold of 871 and half.
12:06: With a massive threshold of 927, Jamie Tyler won SDC with a landslide 937 votes, without the need for a second round of voting. The Derwent crowd chants "Tyler, Tyler, Tyler". Tyler said: "You guys are all amazing, I love you all." Witts won James College, the only one Tyler failed to win.
Student Development and Charities
Candidates:
Jamie Tyler
Sarah Witts
Fran Olley
The winner is Jamie Tyler
11:55: Rich Croker, ex-YUSU President tells us: "I don't think students are voting for the pirate, they're voting for RON. The pirate is the new RON. Students aren't voting for him as a candidate, more someone who isn't the typical SU."
Prior to the Presidential Battle of Croker's era, the exit poll had never been wrong. After a change from a three-day analysis of 300 votes, to a one day, 100-sample exit poll, the result was wrong in its first year (the election of 2006/7). Although Croker said: "A win of a maximum of 10% on the exit poll gives you your winner."
11:43: Langrish told the audience: "I don't think the result actually reflects the level of effort put into the election." Meanwhile the pirate and his crew are tearing the dancefloor to pieces with their probably illegal moves.
11:40: The results coming thick and fast. Langrish and Batula miss first round of voting by 1.5 votes despite winning in every college except James College, but end up winning in the second round by a landslide.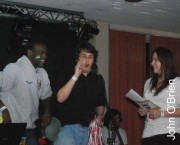 Langrish and Batula win Policy and Campaigns
Policy and Campaigns
Candidates:
John Heritage & Chris Etheridge
Kate Evans & Emily Cousins
Lisa Clague & Laura Vitty
Tom Langrish & Michael Batula
The winners are Langrish and Batula with 963 votes after the second round of voting. The next best got 379.
11:36: AMC has a slip-up and effectively announces the results for Racial Equality before giving the college break down.
Environment and Ethics
Candidates:
John Nicholls & Joe Thwaites
Lena Jeha
Tom Barnes & Ed Morrison
RON
The winners are Nicholls and Twaites.
Racial Equality Officers
Candidates:
Nadia Aziz & John Apea
Iman Khabireh & Marat Omarov
RON
The winners are Aziz and Apea by 289 votes.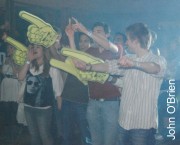 Adam Wiles and campaigners celebrate
11:30: Adam Wiles, new Student Action Chair tells us: "I want to follow on from our fantastic previous Chair."
11:26: Crowd favourite Umbrella comes on. We love it.
11:23: The SDC exit Poll suggests Jamie Tyler to win with 51% of the votes, followed by Sarah Witts with 22% and Fran Olley with 21%. Tyler isn't taking anything for granted.
11:12: Helen Adams, the new RAG President, who dyed her hair blonde as part of her campaign announces: "RAG is going to be amazing this year!" Meanwhile the crowd (and The Yorker team) bop along to a bit of Avril Lavigne.
11:07: RAG Pres is a close one. New Student Action Chair Adam Wiles said: "Thank you very much everyone, I'd like to give a big thank you to the voters, and especially my campaign team."
RAG President
Candidates:
Alexander Fink
Helen Adams
RON
The winner is Adams with 1162 against 873 for Fink
Student Action Chair
Candidates:
The winner is Adam Wiles with 1221 out of 1439 votes.
10:59 Member of the audience Nick Connell said: "Why do we have to wait until 1am to find out who gets president?"
10:46: Rhianna Kinchin is feeling fantastic after beating RON.
10:44: Some more results for you. Ben Humpries said: "In your face RON."
Entertainments Officers
Candidates:
The winner is Dods and Durkin with 1470 out of 1752 votes.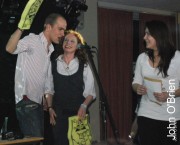 The new LGBT officers celebrating
LGBT Officer
Candidates:
Sarah Fennell & Ben Humphrys
RON
The winner is Sarah Fennel and Ben Humphrys with 1278 out of 1509 votes.
10:33: Rory Shanks is "Loving Nadz"
10:21: Nadz Kunwar just told us: "Matt Burton looks amazing. Not."
10:29: It's all kicking off now!
Women's Officer
Candidates:
Harrison and McIntosh
RON
"The winners are Harrison and McIntosh.
Training Officers
Candidates:
The winners are Kinchin and Kerrigan with 1230 votes.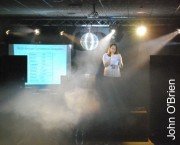 AMC takes to the stage
NUS Delegate
Candidates:
Michael Wood
Laura Payne
Matthew Pallas
Andy Dixon
Matt Burton
David Levene
Sam Bayley
Tom Langrish
The winners are Laura Payne, Matt Burton, Tom Langrish, Matthew Pallas, David Levene, Andy Dixon and Michael Wood.
10:11: Charlie Leyland has told us she got 62% in her exit poll, but isn't counting her chickens for Academic and Welfare. She says: "I just want to know". Meanwhile Aimee Gamble, surprise entrant in the race for the AU told us that her nomination was all down to Matthew Pallas. She gave her blank nomination form to Pallas who signed her up - she says her aim for the night is to simply beat RON (as she isn't actually a member of the AU).
10:09: The announcer has requested "everyone to report to the dancefloor". Currently no one has responded, in fact Joey Ellis and Matt Burton have just departed.
10:05: Mitch: Yes I do. Anon: Official times are 12.15am for AU and 1am for SU President. As the event is running over half an hour late, I couldn't possibly say.
10:00: Alex Lacey is feeling "slightly perturbed".
9:58: The Yorker are in situ, Sarah Witts, running for SDC says she feels "calm" whilst Nick Bradley, Services and Finance Candidate, is feeling the nerves.
9:50: Here we are, finally in. The event is running late, so you'll find out about results as soon as they come in. Feel free to post comments below as we go along!